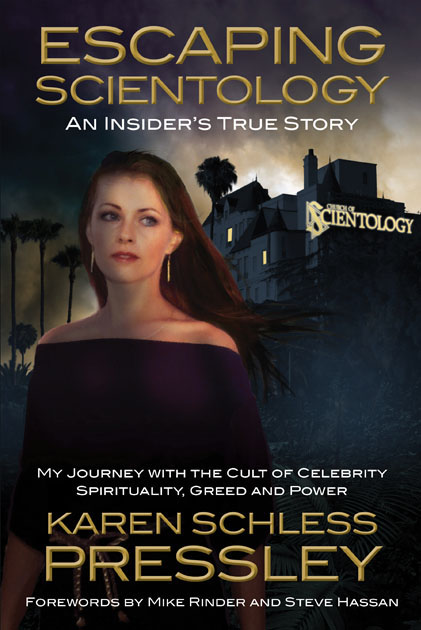 About the Book
WITH THREE DECADES of knowledge about Scientology beliefs and operations, and two decades of experience working for its Celebrity Centre International network and at the organization's highest levels at its abusive international headquarters, Karen [Schless] Pressley's personal story shows how this cult of greed and power hides its transgressions in plain sight under the banner of religious freedom and the social capital of its celebrity members.
Before joining Scientology, Karen worked as a Hollywood fashion designer, and her husband, Peter Schless, was an award-winning composer of legendary songs including "On the Wings of Love" and the theme song to Rambo: First Blood Part II.  Scientology's celebrity spirituality lured them away from these successful careers to join Scientology's extremist group, the Sea Organization.
After Karen finally left the group, Peter disconnected from her, and eventually landed in Scientology's infamous "hole" where he was subjected to abuse and humiliation. He has not composed another song for the outside world.
Karen's story reveals how and why this happened.
---
"The old adage that truth is stranger than fiction might have been coined for this book. Some of it is too incredible to be true. But it is. Every word of it."
Mike Rinder, former head of Scientology's Office of Special Affairs
and consultant to A&E's Leah Remini: Scientology and the Aftermath
---
Karen Schless Pressley's Escaping Scientology: An Insider's True Story:
• Provides an insider's guide through Scientology beliefs, practices, and management operations that keep people trapped while believing they can attain spiritual freedom
• Shares how she lived and breathed recruitment of celebrities under pressure and threats of being sent to Scientology's prison camp; tells how people become addicted to celebrity spirituality and empty their pockets to help save the planet
• Exposes "fair game" actions against Karen, other critics and its ever-growing list of enemies, and its use of a radical vigilante justice system above the law of the land
• Discloses how L. Ron Hubbard and leader David Miscavige use forms of abuse and control to destroy marriages, families, and individual lives in the slave-like working environment at the Int base—the antithesis of the Aims of Scientology—while calling itself the most ethical group on the planet
• Explains how "escaping Scientology" is not just a break-out, but a mind-wrenching process.